In 1924, Rudolf Steiner gave a series of 8 lectures, laying the foundation for a new way of thinking about the relationship of the earth and the formative forces of nature. He showed how the health of the soil, plants, and animals depends on reconnecting nature with the creative forces of the cosmos. Biodynamics comes from the Greek words bios and dyn, which mean "life forces."
Biodynamics is a proactive approach to farming that looks at the individuality of each property and adds back with natural plant and animal life to emulate nature and create a self-sustainable environment. Biodynamic® farming integrates agricultural, biological and ecological scientific knowledge into crop rotations, compost production, plant diversity, homeopathic sprays and soil and animal practices. These practices are combined with our natural life forces to go beyond organic standards to heal the earth for future generations.
Each Farm is a living entity and has its own individuality.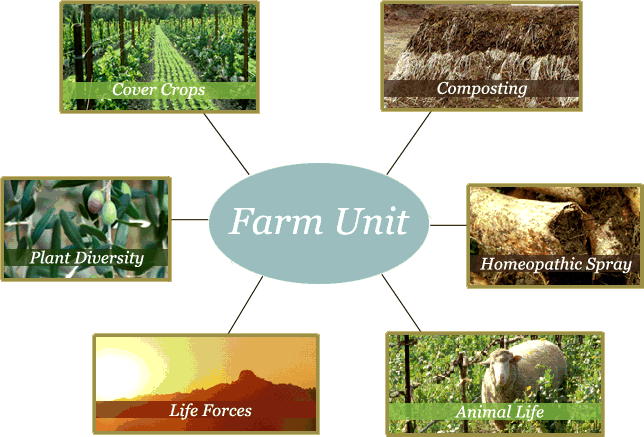 Biodynamic Overview
Biodynamic® farming techniques utilize the vineyard's natural resources to cultivate the highest quality grapes without the use of pesticides, synthetic fertilizers or genetically modified organisms.
Biodynamic® viticulture is a system of farming and managing natural resources to produce the highest possible crop quality. The central goal of Biodynamic® farming is to create and maintain unique, self-sustaining farm ecosystems. This is achieved by building and maintaining soil fertility through composting and crop rotation. Unique to Biodynamic® farming is the application of Biodynamic® preparations (organic nutrient teas) that stimulate soil and compost microbial activity and stimulate the life forces of soil and plants.
Farming using Biodynamic® practices requires a new way of understanding nature in which we percieve the living, form-giving forces that actively regulate the growing process of the plants, animals and soils. A certified Biodynamic® farm meets all the USDA and California standards for organic agriculture, as well as those specific to Biodynamic® farming.
Specific requirements of Biodynamic® farms include:
No use of chemically synthesized fertilizers, pesticides, herbicides, fungicides, or fumigants, no hormones, antibiotics, growth regulators or GMOs.
The basis of crop fertility is compost, manures, green manuring, and crop rotations, along with regular application of the Biodynamic® compost preparations and field sprays.
Weeds are controlled by similar means, by cultivation and by other mechanical methods.
Composting materials, transplants, and animal feed imported from off the farm are very limited in quantity and must be of good quality.
Farms are visited and re-evaluated annually. Contracts for use of the certification marks are also annual.
The farm must be free of prohibited inputs for 36 months, and under Biodynamic® management for 12-24 months.
Rights to use the certification mark or language are not transferable to processors and packagers.
Demeter Association Inc. standards meet or exceed Demeter International, EU, and OFPA standards.
More information about Biodynamic® farming can be found through the website of the Biodynamic® Farming and Gardening Association, as well as by visiting the links on our Biodynamics Resources page.